Well, I obviously haven't been on here much lately. The main reason is because I have been purely exhausted. Any guesses why? Yes, I'm pregnant. And it has stripped away all of my energy. I am close to 4 months now, and starting to get some energy back. So here are the details:
We have been trying for baby #2 since about Dec 06. This past Nov we were out to dinner with the pastors from our church and shared with them that we were getting frustrated that it had been almost a year without any results. I was ready to go to the doctor to start some test to see what was wrong. Our pastor prayed for us and in a couple of weeks, we had a (+) test! How exciting is that?!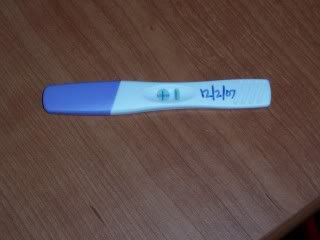 The baby is due Aug 7. And the other big date is that my ultrasound is on March 24. Hopefully our little peanut will cooperate and we can find out the gender.
This pregnancy has been so different for me. With Michael I was tired and of course had frequent trips to the restroom, but other than that not much out of the ordinary but a growing belly. This time, I was horribly nauseous for three months - mostly from noon until dinner. For a while I couldn't even look at "raw" food including uncooked noodles. I had to sit in the living room and talk my husband through making dinner step by step. Luckily he was a good sport about it. :P I am also even more tired than the first time around (maybe because of a toddler running around my house?!) and find myself in the bathroom more times than I can even count. I'm having trouble sleeping already and am uncomfortable a lot.
OK, well I guess that's enough of that. I don't want to just sit here and complain. My point is though that things are so different this time around. How can I have the same pregnancy hormones going through my body and react so entirely different? When people ask me what I think I'm having I say, "All I know is that this baby is a very different person than Michael."
In other news, we just celebrated Michael's half birthday. He is fascinated with birthdays and especially with singing Happy Birthday that I thought it would be fun to let him celebrate his half birthday since his full birthday is so far off. I had baked banana bread that morning, so we stuck 2 1/2 candles in the bread and sang "Happy Half Birthday" to him. He had a blast.